dvprogram.state.gov has published EDV Result 2024 on 6th May 2023 EDT noon time as per schedule. Below you can find the detail information about how to check dv result 2024 Nepal along with some requirements that you need before you will be able to view your DV Lottery Result. Also, we try to clarify some doubts regarding how to retrieve your confirmation number if its lost and what are the next steps you should take after you are selected for EDV program.
Official Confirmation: EDV RESULT 2024 is officially published. Kindly follow the instruction below to check your DV Result
DV Registration for 2024 was done during October 5, 2022, to November 8, 2022. The DV Entrants should keep their confirmation number safely until September 30, 2024.
How to Check EDV Result 2024 | DV Result 2024?
Fill up the form Below to Check your EDV Result 2024
Detail Instruction to View EDV Result Nepal 2024 Online
Here we try to guide you to check your EDV Results 2023 in simple way. Yes, you can use your mobile device or any other device with internet connection to check 2023 DV Lottery results.
Requirements To Check Your DV Result
Active Internet Connection along with mobile, laptop, pc , tablet ,etc.
Confirmation Number : It is 16 digit number which you had obtained after you submited your EDV application successfully. If you have lost this number then there is separate way to find your lost confirmation number
Last Name
Date of birth
After you have above requirements ready, you can now proceed to check dv result
Electronic Diversity Visa Program 2024 Details
| | |
| --- | --- |
| Program Name | DV Lottery Program Intake 2024 |
| EDV Result Date | 6th May 2023 (E.T Time) |
| Result Status | Published |
| Country Applicable | Nepal, Indonesia, Bangladesh,Malta, Qatar, Oman, etc (Full Country list here) |
| Official Website | dvprogram.state.gov |
| Required Data | Confirmation Number, Date of Birth and Applicants Last Name (Family Name) |
Steps to Check EDV Result 2024 : US DV Lottery Result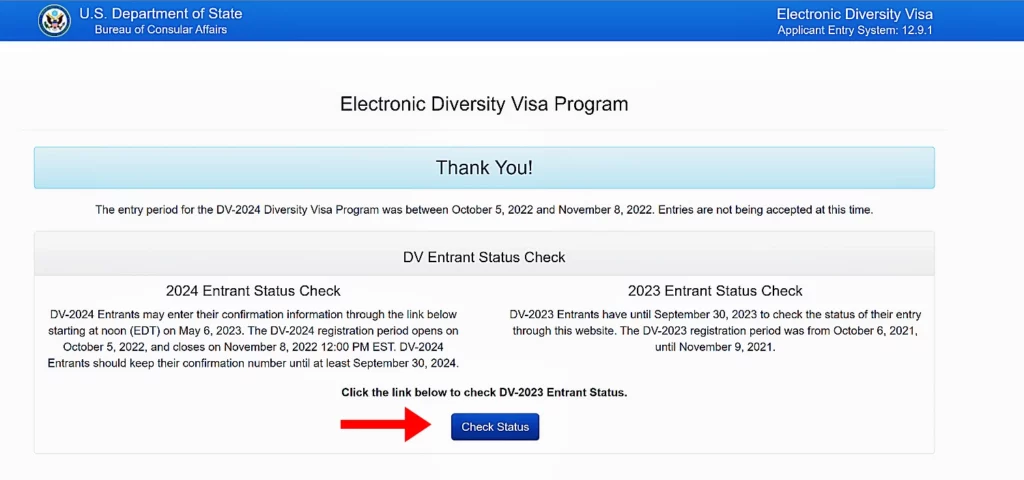 Click on Continue Button.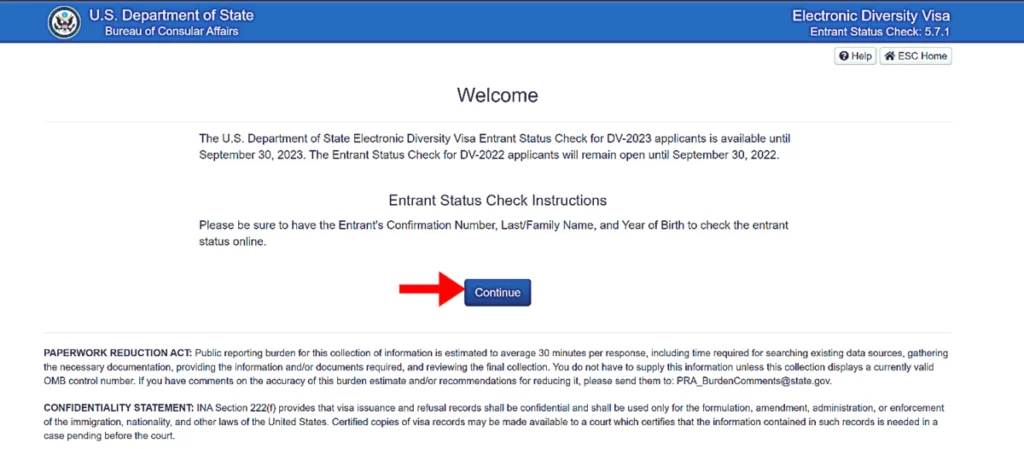 Now you have to fill up your details like Confirmation Number, Last Name, Date of Birth and Click on Submit Button.
Confirmation Number : For 2024 EDV applicants, the confirmation number is 16 characters long which begins with number 2024 at the beginning. For eg: 20241O0DZWY3DOV9.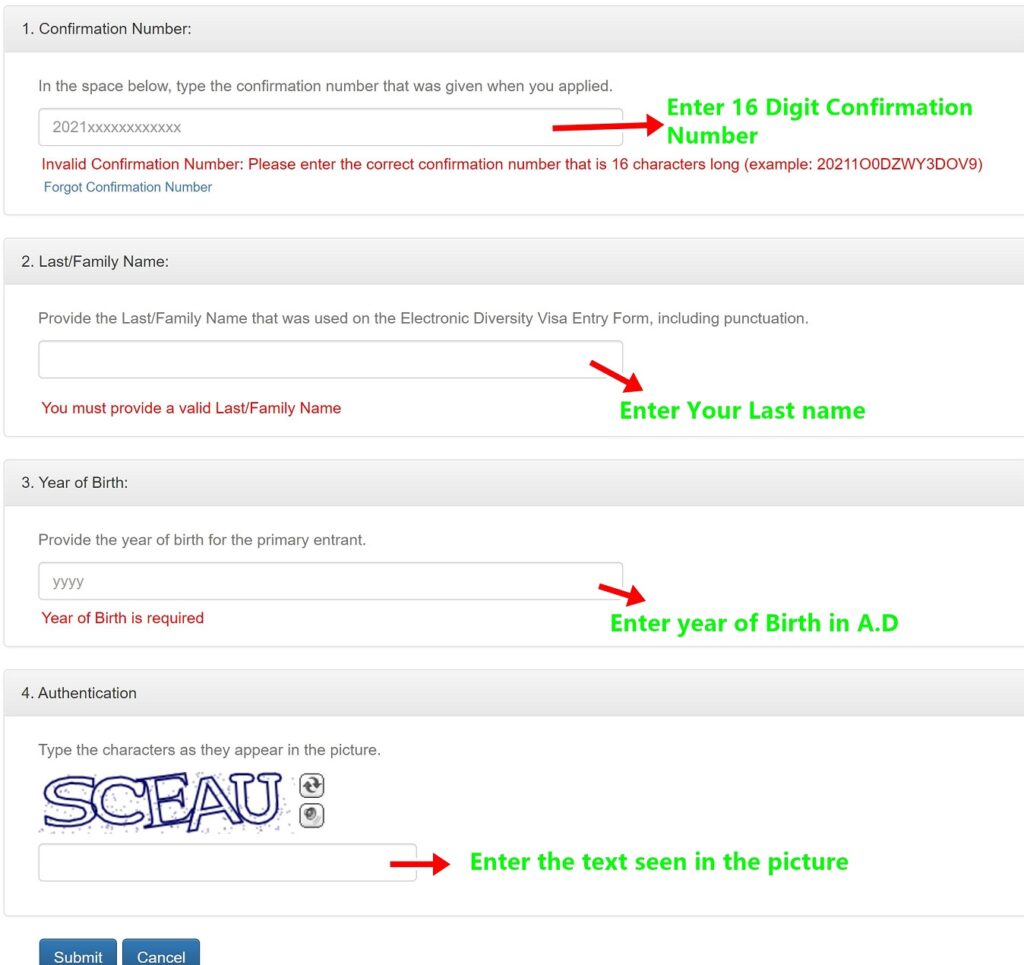 After clicking on submit button you will be notified if you are selected or not in EDV program 2024. If you are selected then Congratulation to you but still there are further process you have to complete to be eligible to get USA green card. This is how you can check your DV Result 2024 yourself. If you face any problem while checking your result, you can comment below, we will try to answer your query asap.
We will also be uploading the complete winner list of DV Lottery 2024. Download the edv result 2024 name list here
DV lottery Program in Nepal
Electronic Diversity Visa (EDV) program is simply a lottery system to get Green Card of United States of America. The program is fully under control of U.S. Department of State Bureau of Consular Affairs. Each year, the program is opened to many countries where lucky 50,000 people obtains the permanent residency of United States.
Many citizens of mainly developing country like Nepal try their luck and participate in the program. Due to the country's condition and dream of getting their family to standard living, the EDV program has been many Nepalese choice of interest. Therefore, we see year by year the number of applicants that fill up the EDV form is getting higher and higher.
When will EDV Result 2024 publish?
According to dvprogram.state.gov website, EDV 2024 Result will get published on 6th May 2023. The result has been published.
What should I do If I forgot my Confirmation Number of DV lottery?
Simply visit dvprogram.state.gov and follow the onscreen guide until you see option for Forgot My Confirmation Number link.
What should I do if I am selected in DV Lottery program?
There is another step to complete before you are completely selected to EDV program. So, we urge everyone not to quit their jobs or business hurriedly.
Is DV Result 2024 Published?
Yes DV Lottery Result 2024 result has been published on 6th May 2023 Noon time
How to Recover Confirmation Number of DV Lottery ?
If you have misplaced or forgot your confirmation number there here is the detail process to recover it.
First you need to open the official website of EDV program http://dvlottery.sate.gov/. Click on Check Status Button. After that Click on Continue button. You will see Forgot Confirmation Number, click on it.
Select the DV program that you had applied for.
Fill up your Last/Family Name, First Name and Middle Name accordingly.
Fill up your Date Of Birth in A.D Month Day and Year respectively.
Provide your same email address that you provided while filling up your EDV application form before.
Click on Submit button.
Other Ways to Check EDV Result 2024
The only way to check EDV Result is via online. Visiting the US Embassy and asking for the result might be another way to obtain the result. But its quite a hassle task.
What To Do When You Are Selected for EDV Program?
First of all congratulation for getting selected for DV Lottery program. People might think, getting selected in EDV Program is enough to get the Permanent Resident Visa for USA but there are still some requirements that you need to fulfill to get USA visa. Here are some few points you need to do after you are selected in EDV Program:
Gathering Documents: After you are selected for EDV program, you should focus on collecting all the documents that you have including Birth Certificate, Passport, Educational Certificates, Work Experience Certificate(s), Training Certificate(s), etc. This will help you to start your further application process for USA PR.
Prepare for the Interview: After you have all the documents ready, you really need to prepare yourself to face Interview at the US Embassy. Don't be afraid and just look out some interview video in youtube to make yourself comfortable with the interview questions.
Be yourself, honest and truthful: No matter what, be yourself and be honest. Do not try to overthink and complicate yourself while facing the interview. Give complete answer and try to explain if you have any inconsistencies or issues in your application.
Follow the Guidelines: Don't forget to follow the guidelines provided by US embassy. If they ask for any additional documents, make sure to submit them within the deadline.
We hope we answered all of your queries and doubts regarding EDV Result. If you have still some doubts and confusion feel free to comment below or join our telegram channel