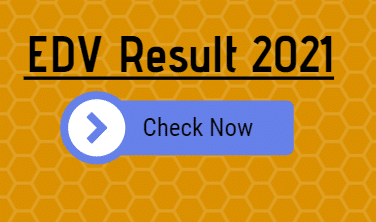 If you have come searching how to check edv result online then you have come to the right place. According to the officials, 2021 Nepal EDV Result will be announced on 6th June 2020 at 9:45 PM Nepal time. Also, we will update edv result 2021 name list or winner list below.
How to Check EDV Result 2021 ? DV Lottery Result 2077 Nepal
Check Your EDV 2021 Result here.
Fill up the form Below to Check your EDV Result
Official announcement from US Embassy Nepal has announced that EDV Result 2021 will be published on 24th Jestha 2077 B.S i.e 6th June 2020 Saturday.
Detail Instruction to Check EDV Lottery Result Nepal Online
The following steps will clearify your doubt, about how to check this years edv result completely. Don't worry this can be done using your mobile phone or pc.
Steps to Check EDV Result 2021 : Nepal DV Lottery Result
Firstly you need to visit the official website to check edv result online. In this case the website is dvlottery.sate.gov
Then you should Click on Check Status Button as shown below.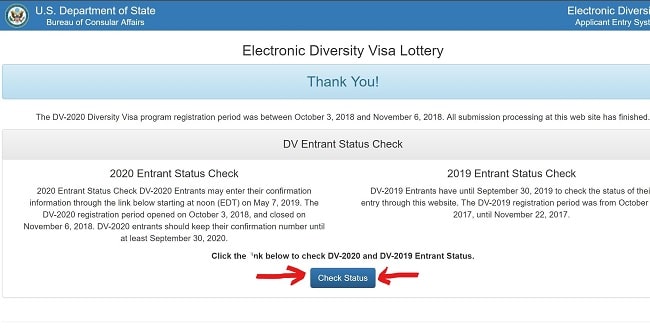 Then you will be redirected to new page, which will be similar to below image. Just Click on Continue Button.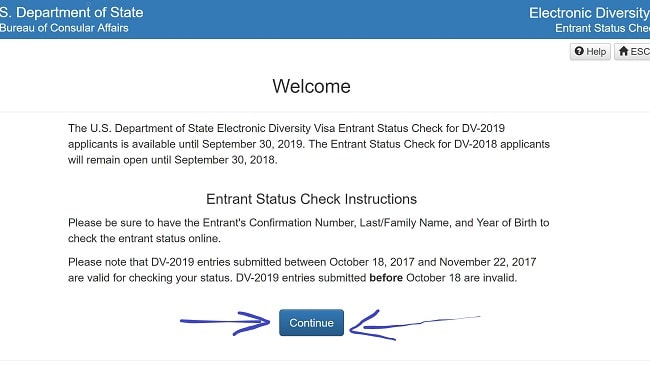 When you Click on Continue Button, you will be redirect to new page which looks like this: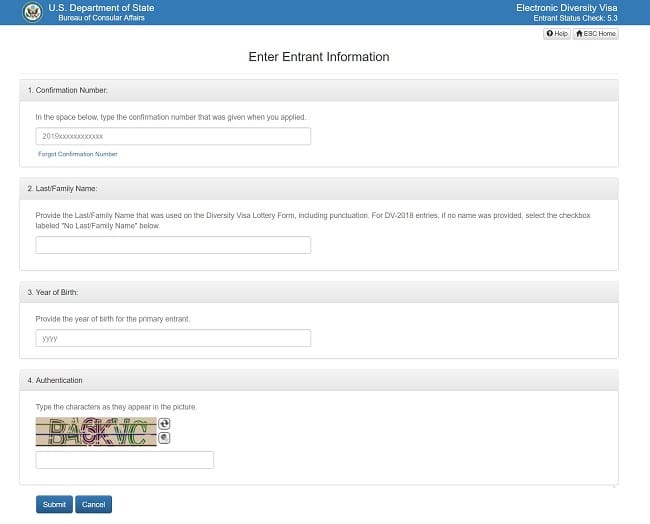 Now you have to fill up your details accordingly.
For eg: In Confirmation Number field, you have to enter your Confirmation Number that you got during your form fill up.
Next is your last name/Family name field.
For eg: If your name is Ram Gurung, you have to enter Gurung in this field.
Next one is your Year of Birth Field.
For eg: If you DOB is 05/05/1985 then you should enter jus 1985 in this field.
The final field is Authentication Field, here you have to Enter The Text that you see in the image.
For eg: In the above picture, we should enter B46KVC
Finally, Click on Submit Button.
Hope you will get your result as expected. Good Luck!!
We will also be uploading the complete winner list of DV Lottery 2021. Download the edv result 2021 name list here
History of EDV Lottery in Nepal:
Like this year, last year too there were around 5 lakh people who took part in EDV Lottery Contest.
This year's form fill up program was started on October 3, 2019, and closed on November 6, 2019. But one should keep their confirmation number securely untill September 2020, since there might be lot of changes in the DV Lottery Result as usual. So, don't get too sad if your name doesn't show up in the lottery list because there might be another update published soon where it might be there.