Nepal is one of the most beautiful country in the world with lots of attraction including it's natural beauties, culture and tradition. Many tourists all round the world including nepalese people themselves travel to different places of Nepal. So, if you ever want to visit Nepal, here are the list of top 5 best places that you must visit while touring in Nepal.
Either you have come to visit Nepal in vacation with your friends, colleagues or families here are the top 5 favorite places we recommend you should visit in Nepal.
TOP Favorite 5 Places to Visit in NEPAL:
Annapurna Base Camp: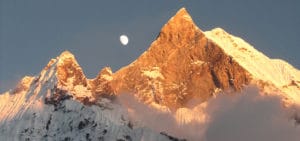 If you love trekking especially near mountains then ABC (Annapurna Base Camp) is for you. It lies in Ghandruk (gurung village) which is one of the beautiful place of nepal.Generally it takes 7-12 days to complete the trekking in ABC. In the way, tourist can see many mountains including Annapurna I (8091 m), Machapuchhre (6993 m), Annapurna Souh (7219 m) and Himchuli (6441 m). This trekking is so enjoyable that even some tourist like to trek with their children too. Since, the trekking is done at the side of the mountains there is always a danger of Avalances so tourist must have latest information on trail condition.Although, trekkers visit ABC throughout whole year, the best time for trekkers to visit Annapurna Base Camp is during Spring season. In spring, the blooming of Rhododendron makes it even more special to trek.
Tilicho Lake: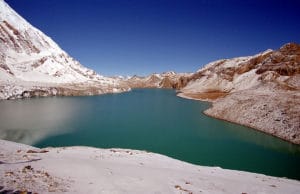 It is the highest lake of Nepal which lies at height of 4,919 m and loved by many trekkers alround the world. Tilicho Lake is also claimed as one of the Holy spot in Ramayan (Holy book of Hindus). So, many Hindu devotees are also attracted to visit this beautiful lake. Around 2000 A.D, Russian tourist started scuba diving in Tilicho Lake, so is famous as one of the highest scuba diving spot of the world.
Lumbini: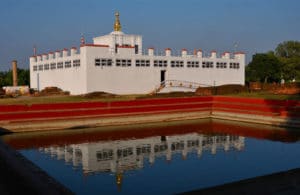 Famous as the birthplace of Lord Buddha, Lumbini is one of the most ritual place for Buddhist people. The place itself is beautiful but the monastries, monuments and the museum adds more value to this place. It's 8hr drive from the capital city Kathmandu. Many tourist visit Lumbini to witness the palace where Lord Buddha was born.
Chitwan National Park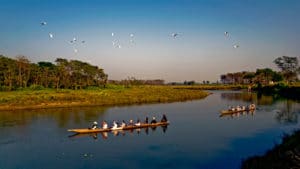 Listed at one of the world heritage, Chitwan National Park is famous for its diversity in natural resources and rare species of animals found around the world. One of its most attraction is One Horn Rhinoceros. Tourist generally travels deep in the forest riding on the back of the elephant which is very adventerous.
Pokhara
Pokhara is called the Switzerland of Nepal as it is one of the most beautiful place of Nepal. There are lots of attractive places in Pokhara. Some of them are:
Fewa Lake (Phewa Lake):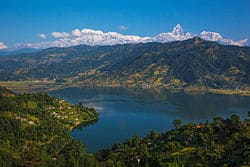 Reflection of Annapurna range on the lake creates an unbelievable view which amazes people for all the time. Moreover, temple named Barahi Mandir which is located at the middle of the lake makes it even more beautiful. Situated at the lakeside of Pokhara, Phewa lake is one of the most active tourist area in Nepal.
Sarangkot: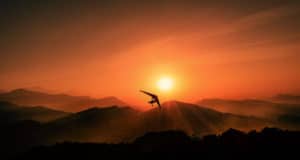 Famous for viewing Sun Rise & Sunset , Sarangkot is located at 1600 m altitude. Tourist find it very fascinating as they can paraglide from top of Sarangkot to view the beautiful sight of Pokhara from the top.
Peace Pagoda (Shamti Stupa) :
Located near the Phewa lake at the top of the mountain, its famous for its unique design and beautiful scenary around it.

So, these were the top 5 places you might want to visit while visiting Nepal.