Jyoti Life Insurance IPO gets reschedule to 21st Falgun 2077 – 26th Falgun 2077. Previously, JLICL announced they will make their IPO available to the public from 7th to 12th March 2021. But now the company has officially announce the reschedule to open IPO from 5th March 2021 – 10th March 2021.
Recently, people of Nepal has shown very keen interest in share market. People are actively participating esp. buying new IPO that's been allotted to general public. So, its great opportunity for share marketers to buy yet another IPO from Jyoti Life Insurance Company Ltd. The company is about to issue an IPO of 66 lakh shares – equivalent to NPR 66 Crore. NMB Capital is assigned as the main issue manager but people with meroshare account along with DMAT account can easily apply from their dashboard online.
Jyoti Life Insurance IPO Detail:
IPO Issue Date
21st Falgun 2077 (5 March 2021)
IPO Closing Date
26th Falgun 2077 (10 March 2021)
[Note: The end date might get extented upto 6th Chaitra 2077]
Issue Manager
NMB Capital
Per Unit Share Price
NPR 100
Minimum Kitta to Apply
10
Maximum Kitta to Apply
66000
Total Kitta for General Public
5940000
Total Kitta of JLIC
6600000
JLIC IPO Announcement Notice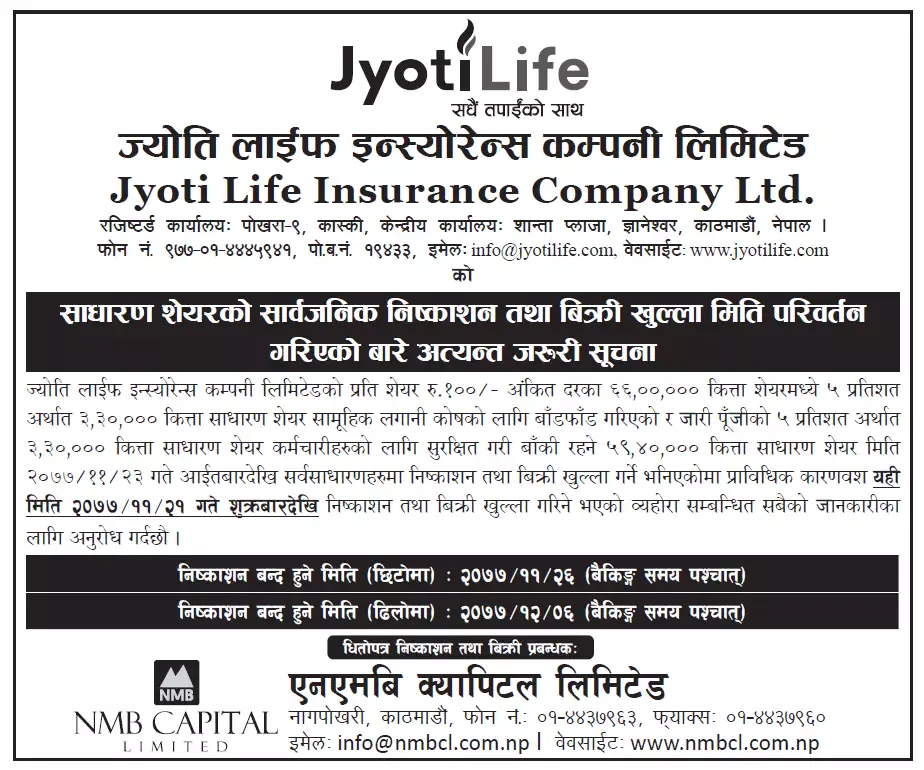 According to CRNL (Care Ratings Nepal Limited), Jyoti Life Insurance Company Limited is assigned BBB rating which carries medium credit risk.
JLICL previously announced the Net Profit of 91.87% in the first quater of fiscal year 2077/78 which result the net earning of NPR 7.22 crore compared to the previous year. The company also showed positive growth in profit in second quater as it gained 56.56% Net profit which increased their earning to NPR 10.78 crore compared to previous year.
Jyoti Life Insurance : Website
NMB Capital : Website
As soon as Jyoti life Insurance IPO result gets public, we will update it here
Subscribe us to get more latest updates in Nepal Share market.
JLICL opens General Public IPO on 5th-10th March 2021 i.e 21st Falgun 2077 to 26th Falgun 2077.
CRNL rated JLIC as triple B, so it carries moderate risk.
Minimum of 10 Kitta can be applied.
The price of one Kitta of JLICL is NPR 100. The price will vary once the IPO result gets published.
NMB Capital is the official Issue Manager of JLICL IPO.