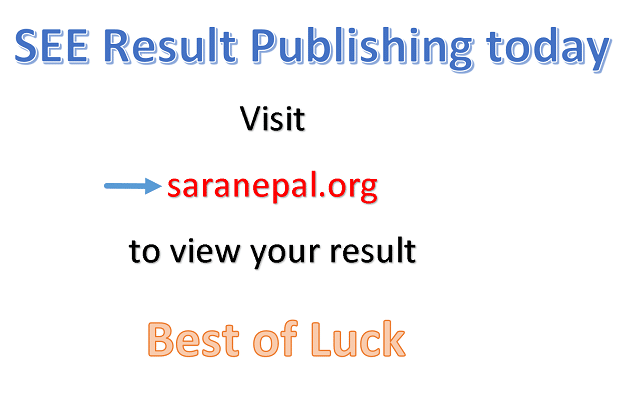 NEB (National Examination Board) is planning to publish SEE Result (Grade 10 exam result) of academic year 2075 today.
Yes, the wait is over you can check your grade 10 result here
According to Kantipur Television , we just received an update that 2075 SEE Result will be published today Around 3:30PM, Ashar 12 2076
It was first time in Nepal, that the SEE Examination from all 7 provinces was localized individually and there was facility of different question sets for each one.
Finally SEE Results 2075 is published on Ashar 12 2076. Follow the link below to check your result.
Students who have attended the SEE Examination 2075 can check their SEE Result from https://saranepal.org/officially-check-see-result-with-marksheet/ when the result gets published.
There was no obstacle in Province 1,3,4,5,6 and 7 during the examination which lasted from Chaitra 11,2075 to Chaitra 21, 2075. But in Province 2, the examination shifted back to Chaitra 22,2075 to 29th Chaitra 2075 due to question paper leak. Altogether , 4,75,300 students attended this years SEE Examination 2075.
Officials (Examination Controller) has said that the result will be published today as all the works has been completed. Once the board meeting will be done, there will be a press conference for the official announcement of SEE Result 2075.