If you are wondering when is SEE Result going to be published in Nepal for year 2075/2076 then you have arrived in right place. We regularly update the publication date of SEE Examination Result as informed by National Examination Board [राष्ट्रिय परीक्षा बोर्ड].
Please follow this link to get updated info regarding publication of SEE Result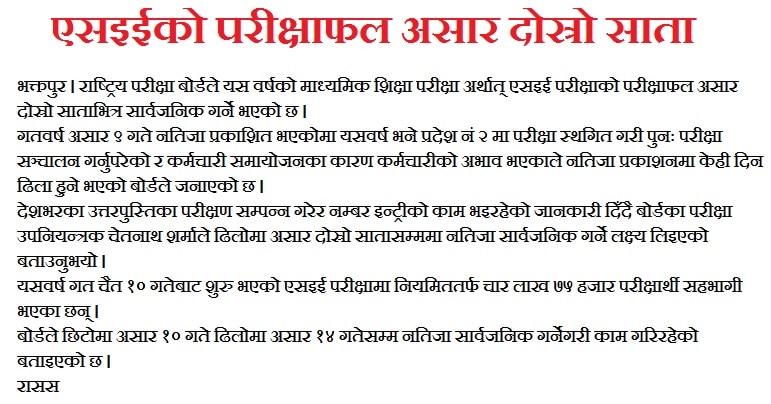 After the Result is published feel free to check here to get your SEE Result along with gradesheet/marksheet without any delay
National Examination Board has announced the SEE Examination Result will be published upto second week of Ashar 2076. In Previous year, the result was publicly available on Ashad 9 2075, but this year due to the postponement of SEE Examination in State No.2 there will be one to two weeks delay in SEE Result publication.
According to NEB, the SEE Result for Grade 10 Examination which took place on Chaitra 2075 is going to be published on either first week of Ashad or second week of Ashad 2076. So, this means we have only 10-14 days left for the publication of SEE Result 2075 2076.
Recommended: Check SEE Result with Marksheet 2075 2076
In SEE Examination which took place on 10 Chaitra 2075, according to NEB there were total of 4 lakh 75 thousands students who have attended this years SEE Eamination. So, we will like to wish all the best for all those students for the better SEE Result.